Go West Film Festival welcomed these talented guests to our 2018 festival.
Stay tuned for information on our upcoming 2019 guests and film selections.
A popular regular at Go West Film Festival, Ray will be performing at the Kickoff celebration on Sunday, November 4, at the Kress starting at 6pm.
A classic country/western music singer, Ray was born in a small Eastern Plains community in Colorado. He now lives in Greeley, Colorado, where he graduated from Greeley High School in 1963. After high school he served 4 years in the United States Marine Corps.
Ray entertains with singing classic country songs and western songs and accompanies himself on guitar. He played in a rock 'n roll band in high school with his younger brother, and in a country band with his father-in-law in the 1970's -1980's, but always liked anything western, including the music.
Ray is married to Connie (Jojola) Delgado, and has two grown children and one grandson. He is a member of the International Western Music Association and the Colorado chapter of the IWMA.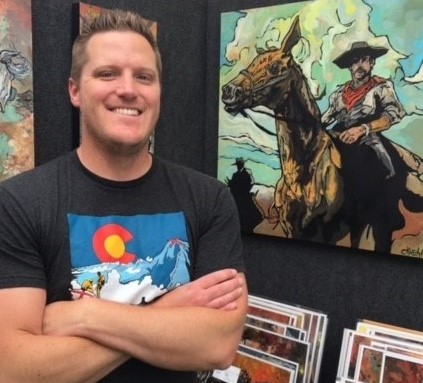 Cody will be joining us for our festival Kickoff on Sunday, November 4, at the Kress. Browse and buy some of his colorful western images. His art is featured on our poster and program design this year. We are grateful for his generous and creative support!
Cody is a Northern Colorado born New Western artist who resides in Denver. By drawing from many different sources, Cody illustrates the West by pairing strong graphical themes with non-objective underlays. His website features New West paintings with a stylistic interpretation of recurring western themes: The Art of Cody Kuehl
Cody shares this view to understanding his western art series:
The myth and ethos of the West lives strong even today in American culture. The lone gunman of the west stands tall as an enduring symbol that people strive towards. The history that we try to live is a double-edged knife that cuts both ways, however. These paintings strive to build up and undercut, live into and criticize the American west as a force in our history that is both a powerful story of American ideals and a fundamentally flawed American character study.
This is Hank's 3rd time accompanying a silent film for the Go West Film Festival. We are thrilled to have him back for our 5th anniversary! He will be performing on Wednesday evening, November 7, at the Kress.
Pianist Hank Troy began playing for silent movies in 1971 at the Denver (Colorado) Folklore Center. Since then he has accompanied over 1000 films.
In the late 1970s and early 1980s, Hank was the resident accompanist at the Denver Center Cinema. In 1985, he became pianist for the silent film series at Colorado Chautauqua in Boulder, CO.
Hank has performed for festivals in Denver, Breckenridge, Santa Fe, Telluride and Aspen. Other regional venues include the Rialto Theater in Loveland, the Kress Cinema and Lounge in Greeley, the Denver Art Museum and the Colorado Springs Fine Arts Center. Since 2011, he has performed for the annual Denver Silent Film Festival.
He was pianist for two seasons of "Golden Silents," a film-to-video project produced by KBDI Channel 12 and distributed to PBS stations nationally. His accompaniments have also been used in several television commercials.
Hank plays an improvisational style, drawing on the 19th century Romantic tradition of classical music and from popular American tunes of the early 20th Century.
John is presenting at the Kress on Saturday morning, November 10. We can't think of a better way to celebrate the beauty of the West! He will also be selling his books & calendars, perfect gifts for the holiday season.
John Fielder is a nationally renowned nature photographer, publisher, teacher, and environmentalist. He is the photographer of more than 40 coffee table, guide, and children's books, all about Colorado. He might be best known for creating Colorado's best-selling book ever, Colorado: 1870 – 2000, which juxtaposes historic photographer William Henry Jackson's images of the 19th-century landscape with those of today.
Fielder has worked tirelessly to promote the protection of Colorado's open space and wildlands. His photography has influenced people and legislation earning him recognition including the Sierra Club's Ansel Adams Award, the University of Denver's Daniel L. Ritchie Award, the Distinguished Service Award from the University of Colorado, and he received an honorary degree in Sustainability Studies from Colorado Mountain College. He was an original governor-appointed member of the lottery-related Board of Great Outdoors Colorado, and speaks to thousands of people each year to rally support for timely land-use and environmental issues.
He lives in Summit County, Colorado and teaches photography workshops to adults and children. Visit his website for more info.
Burke will be leading the film discussion on Thursday evening, November 8, at Lindou Auditorium on the University of Northern Colorado campus. This is in partnership with the International Film Series.
Burke Hilsabeck is Assistant Professor of English at the University of Northern Colorado. He is the author of The Slapstick Camera: Hollywood and the Comedy of Self-Reference (forthcoming from SUNY Press).
Come and meet Katie at our Wrap-Up event on Saturday evening, November 10, at the Kress. She is bringing rodeo safety gear and talking about horse training, a perfect fit for our final film, The Rider!
Katie Clinebell is the Greeley Stampede Promotions Coordinator and works alongside the Stampede committee, staff, and rodeo contractors to help produce the Greeley Stampede PRCA rodeo. The Greeley Stampede is among the nation's top 25 PRCA rodeos and was inducted into the Pro Rodeo Hall of Fame in 2014 as a rodeo known for its iconic setting, smooth production, and supportive committee. Katie graduated summa cum laude from Colorado State University in 2016 with a degree in Agricultural Business, and she put herself through college starting colts and training performance horses. Today she has a herd of 6 horses of her own, and takes any opportunity she can to support the sport of rodeo.
Performing music for our Wrap-Up party Saturday evening, November 10, Jeremy joins us for the first time this year. Give him a hearty Go West welcome!
After nearly 10 years of sharing the singer/songwriter roll and swapping control of the helm in the now disbanded rock band Turn 4, Jeremy has moved on to front the Alt Rock band The Deadwood Saints and start a new chapter in his songwriting career. Occasionally shedding the band, Jeremy performs as a solo singer song writer displaying the raw intimacy of his songwriting.