Go West Film Festival welcomes these talented guests to our 2019 festival.
Keyboardist and early cinema expert Rodney Sauer provides live accompaniment music for our opening film on Monday, November 11 at 6:30 p.m. at the Kress.
Pianist Rodney Sauer has played at major venues including the New York City Lincoln Center, the San Francisco Silent Film Festival, Turner Classic Movies Festival, and the Telluride Film Festival. And now he is coming to Greeley!
For 25 years Rodney has directed the Mont Alto Motion Picture Orchestra. He compiles scores to silent films from music libraries for live performances and recordings. The New York Times says his music is "breathtakingly beautiful" and critics say his music perfectly complements silent films just as they were in the 1920s.
He will play the piano for the viewing of Ramona, a 1928 silent film that was lost until archivists discovered it in Prague in 2010. This western romance was restored and shown for the first time in decades in 2014. The film is based on a popular 1880s novel by Colorado Springs novelist Helen Hunt Jackson.
In partnership with UNC's International Film Series, Álvaro is our guest host for the film on Thursday, November 14 at 6:30 p.m. at Lindou Auditorium in the Michener Library.
Born and raised along the Texas-Mexico border, Alvaro Rodriguez is writer of From Dusk Till Dawn: The Series and co-creator/executive producer Seis Manos, a Netflix original series. He wrote and performed music for Robert Rodriguez's breakthrough film El Mariachi and began writing screenplays with Robert including the Shorts (2009) and Machete (2010).
Álvaro has served as a frequent speaker, panelist, moderator and judge at writing workshops and conferences in Austin, Los Angeles, Phoenix, Pittsburgh and Seattle, and was a keynote speaker at the 2018 University Film and Video Conference at New Mexico State University.
Gary will be hosting our final film on Saturday, November 16 at 6:30 p.m. at the Kress. You won't want to miss his humor, insights, and yodeling skills!
Gary McMahan is known for his award-winning songs, stories, humor and national championship yodeling. His cowboy heritage comes naturally. He was born into it and has ridden, wrangled, and roped all over the West. His songs have been recorded by artists such a Garth Brooks, Ian Tyson, Chris LeDoux just to name a few. He may just be the new heart of the West.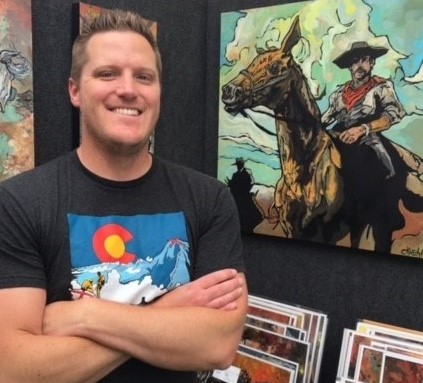 Cody will be joining us for the Wrap-Up party on Saturday, November 16 at 6:30 p.m. at the Kress. Browse and buy some of his colorful western images. His art is featured on our poster and program design this year. We are grateful for his continued support!
Cody is a Northern Colorado born New Western artist who resides in Denver. By drawing from many different sources, Cody illustrates the West by pairing strong graphical themes with non-objective underlays. Cody shares this view to understanding his western art series:
The myth and ethos of the West lives strong even today in American culture. The lone gunman of the west stands tall as an enduring symbol that people strive towards. The history that we try to live is a double-edged knife that cuts both ways, however. These paintings strive to build up and undercut, live into and criticize the American west as a force in our history that is both a powerful story of American ideals and a fundamentally flawed American character study.