FILM SCHEDULE
November 11-16, 2019
Films are free unless otherwise noted. Open seating – arrive early.
Evening events begin at 6:30 p.m.
6:30 p.m. - Kress Cinema & Lounge, 817 8th Avenue
Directed by Edward Carewe, 1928. Starring Dolores del Rio and Warner Baxter. Not Rated. 80 mins.
This event is made possible with support from The Greeley Stampede.
Keyboardist and early cinema expert Rodney Sauer provides live accompaniment for this silent-era gem starring internationally acclaimed Mexican actor Dolores del Rio in the title role. When Ramona falls in love with an Indian youth, she must choose between her heart and the wishes of her disapproving family.
ADMISSION: $5 – Click below to buy tickets or pay at the door.
DISCUSSION LEADER: Rodney Sauer
12 noon - Farr Regional Library, 1939 61st Avenue
Directed by David Miller, 1962. Starring Kirk Douglas and Gena Rowlands. Not Rated. 108 mins.
Kirk Douglas conjures the loneliness of an outlaw cowboy at a time when the desert is crossed by long-haul trucks, and western skies are streaked by jet planes. Colorado's own Dalton Trumbo wrote a screenplay that champions western values of freedom and individuality, adapted from Edward Abbey's novel The Brave Cowboy.
DISCUSSION LEADER: Khris Gamer
6:30 p.m. - Kress Cinema & Lounge, 817 8th Avenue
Directed by Michael Apted, 1992. Starring Val Kilmer and Graham Greene. Rated R. 122 mins.
Based on actual events on tribal lands during the 1970s, this crime drama casts Val Kilmer as an FBI agent assigned to a case because of his own part-Sioux ancestry. Apted's documentary sensitivity captures the ancient beauty of the Badlands, as well as disfigurement by industrial society.
DISCUSSION LEADERS: Sarah Cornish and Khris Gamer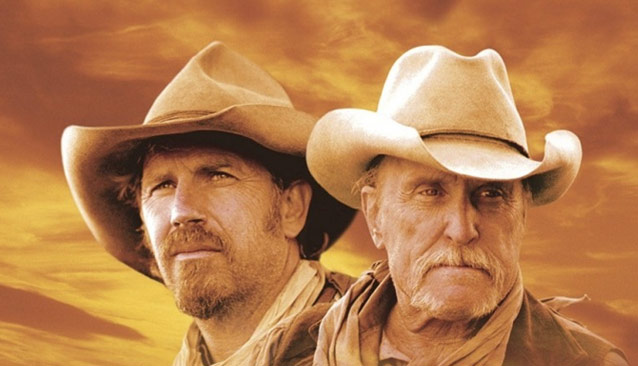 12:00 noon - Farr Regional Library, 1939 61st Avenue
Directed by Kevin Costner, 2003. Starring Kevin Costner and Robert Duvall. Rated R. 138 mins.
Costner and Duvall revive the aura of the cattle drive in their roles as open range cowboys Boss and Charley. Though violence is not their first recourse, a showdown is inevitable when their unfenced values clash with the narrow-minded greed of a tyrannical rancher.
DISCUSSION LEADERS: Ron and Thelma Edgerton
6:30 p.m. - Kress Cinema & Lounge, 817 8th Avenue
MODERATOR: Rob Walker
Enjoy an evening of curated short films celebrating the West. Attendees will vote for their favorite!
For film details click here - SHORTS SHOWCASE.
12:00 noon - Centennial Park Library, 2227 23rd Avenue
Directed by Warwick Thornton, 2018. Starring Bryan Brown, Hamilton Morris, and Sam Neill. Rated R. 113 mins.
Australia's Northern Frontier in the early 20th century shared many features of America's Old West, including great salt deserts and hostility between settlers and indigenous peoples. In a society where the justice system is rocky at best, bringing a fugitive in for trial is not an easy task.
DISCUSSION LEADER: David Caldwell
6:30 p.m. - University of Northern Colorado, Lindou Auditorium, Michener Library, 1400 22nd Street
Directed by Nicholas Ray, 1954. Starring Joan Crawford and Sterling Hayden. Rated PG. 110 mins.
Few bars are more interesting to belly up to than the one run by Joan Crawford as a tough saloon owner called Vienna. Aided by her mysterious friend Johnny Guitar, Vienna's fortitude is tested by a local lynch mob whose tactics echo the political turmoil of the 1950s.
DISCUSSION LEADER: Álvaro Rodriguez, writer From Dusk Till Dawn: The Series; co-creator/executive producer of Seis Manos, a Netflix Original Series.
12:00 noon - Farr Regional Library, 1939 61st Avenue
Directed by John Ford, 1956. Starring John Wayne, Jeffrey Hunter, and Natalie Wood. Rated PG. 119 mins.
Ford's beautifully photographed quest to find a girl kidnapped by Comanche raiders is driven by Wayne's conflicted character Ethan Edwards. The personal struggle reflects a larger search for peaceful co-existence with Native Americans.
DISCUSSION LEADER: David Caldwell
6:30 p.m. - Aims Community College, Ed Beaty Hall Theater, 5401 W 20th Street
Directed by Ron Underwood, 1990. Starring Kevin Bacon and Fred Ward. Rated PG-13. 96 mins.
In a delightful homage to 1950s sci-fi movies, Tremors celebrates the West in a decidedly weird way. Balancing humor and horror in the problematically named town of Perfection, Nevada, two local handymen prove as gritty as Gary Cooper or Clint Eastwood when they spur the townsfolk on to defeat an enemy that lurks beneath their boots.
DISCUSSION LEADER: Greg Driskill
Support Your Local Sheriff
12:00 noon - Farr Regional Library, 1939 61st Avenue
Directed by Burt Kennedy, 1969. Starring James Garner and Joan Hackett. Rated G. 92 mins.
The Western occasionally veers into comic territory, as with this tale of a gold-digging sheriff for whom a paycheck is more important than principles. James Garner leads an ensemble cast of supporting favorites, including Jack Elam, Joan Hackett, Walter Brennan, Bruce Dern, and Harry Morgan.
DISCUSSION LEADER: Lisa Wegener
Everything in the Song Is True
and Wrap-Up Party
6:30 p.m. - Kress Cinema & Lounge, 817 8th Avenue
Directed by Doug Morrione, 2016. Starring Gary McMahan and Brice Chapman. Not Rated. 80 mins.
Meet poet, singer, yodeler and Greeley "native son" Gary McMahan in person at the Kress and see him on the big screen in a documentary about four iconic folk artists whose words and music sustain our connections to the people, nature, and culture of the West.
Our foot-stomping Wrap-Up Party with live music by Christopher Thomas features food from Luna's Tacos, western reenactors The Posse, and western artist Cody Kuehl displaying his work in the Kress Lounge.
ADMISSION: $10 - Click below to buy tickets - or pay at the door.